Whether you're looking for information on pumpkin patch ideas or plans for your pumpkin treats, you'll need the run down of where to find a good pumpkin patch Rexburg Idaho is nearby. There are actually tons of them in the area for you to choose from!
Where Are They?
In our article about everything fall, we already talked a bit about R.C. Acres, A Sincere Pumpkin Patch, and U Pick Redbarn, but we've got a few more suggestions and some pricing info for you.
R.C. Acres
R.C. Acres is open this year (2021) 4 PM till dark, about 6 PM, every weekday. On Saturdays, they're open from 11 AM till dark. They have an array of fall decorations for sale and of course a field full of pumpkins! Their pricing is based on size and type, so their gourds and mini pumpkins are 1 and 2 dollars, and their pumpkins from $4 to $15 between small and extra huge pumpkins! They have a great variety even now, a couple weeks before the big day of Halloween, and are making sure to keep them covered away from the snow for you.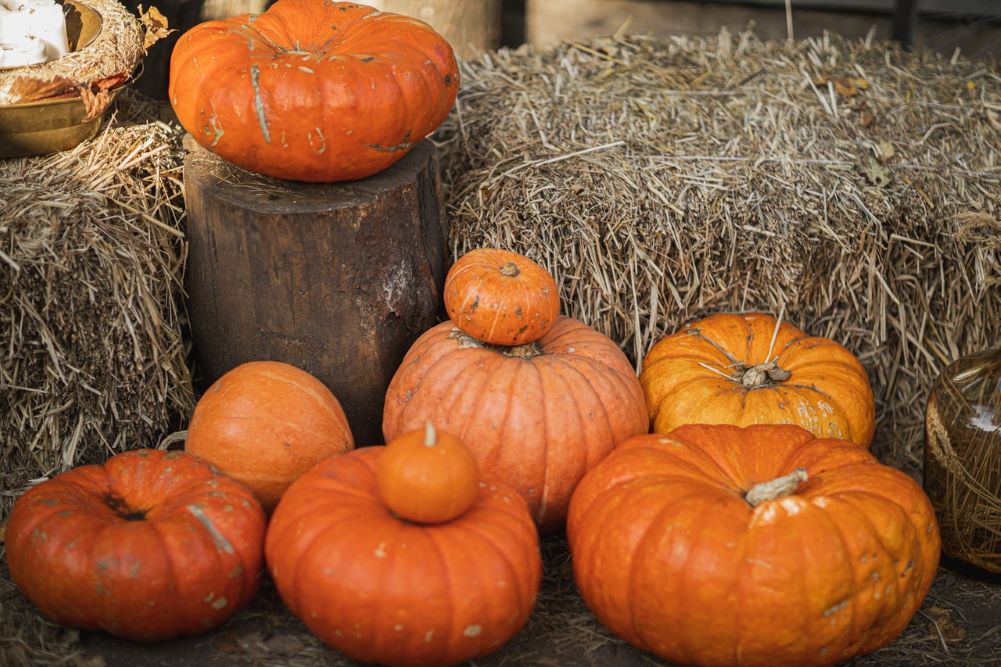 A Sincere Pumpkin Patch
A Sincere Pumpkin Patch hasn't listed their prices anywhere, but they usually charge by weight. They have a variety of gourds to choose from as well as all sizes of pumpkins! Their pumpkins are always bright and orange and ready for you, but you have to make sure to grab them before the frost does, so head over soon. Depending on when you go, the location might have up a mini straw maze, a photo board with your favorite Charlie Brown characters, or a hay stand covered with pumpkins for a photo op!
U Pick Redbarn
U Pick Redbarn is the hotspot for activities for your pumpkin patch ideas, especially with kids. They have a tractor ride, jump station, a corn pit (like a sand box), and even pumpkin cannons. If you want a place to purchase your pumpkin and send it sailing to a beautiful explosion, or if you want to pick out a wheelbarrow full of decorative pumpkins, this is the place to go. Their location has carving pumpkins as well as gourds, flat green and white pumpkins, and bumpy textured pumpkins at 3 for $25, 5 for $36, and their activities are separate.
Ashland Produce
Ashland Produce is a patch we haven't talked about before. They're located down in Rigby, and throughout the year and even now during fall, they offer a variety of produce for purchase. Most importantly for this time of year, they have a large pumpkin field for you to peruse as well as a variety of squash and gourds. They are open form 10 AM to 7:30 PM for all your produce and Halloween needs. They're not on Google Maps quite yet, so put in the address 158 N 4544 E. Rigby, ID 83442 to head over.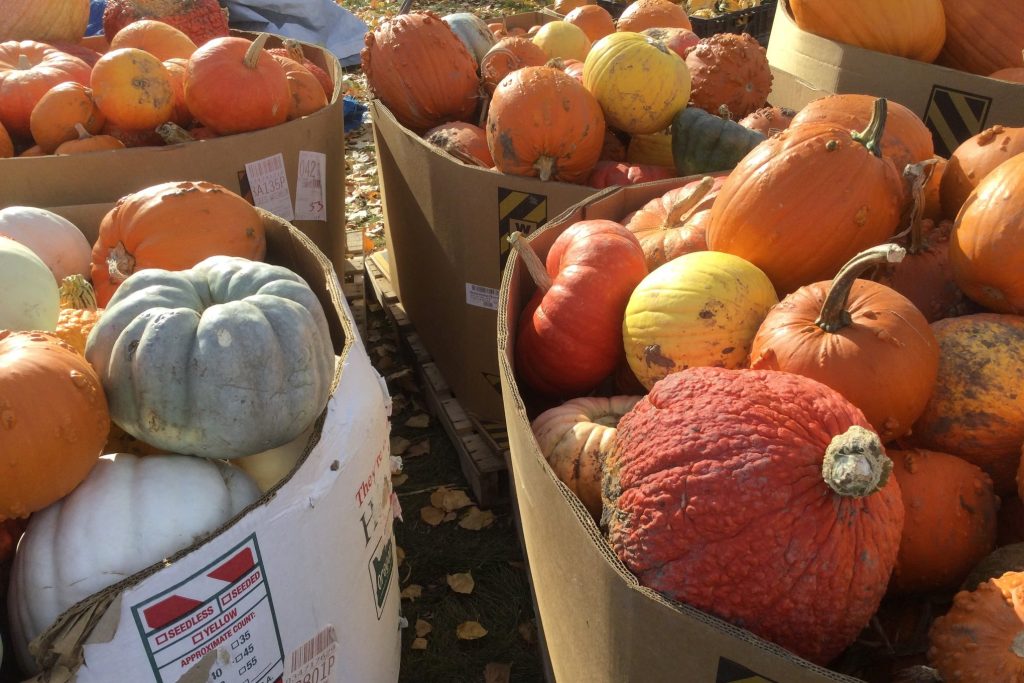 Fall Festival at Treehouse Nursery
Fall Festival at Treehouse Nursery offers food and games as well as a selection of pumpkins. In the past they've had a fairy tale forest and a pumpkin cannon and aspire to have a petting zoo! The location is open weekdays from 4 to 7 and Saturday from 10 AM to 7 PM and is $5 per person.
New Sweden Farms
New Sweden Farms has a yearly corn maze and pumpkin patch they do in Idaho Falls. Until October 30, they'll be open from 5 PM to 9 PM for you to make your selection or wander through their corn maze, cut out to look like a 9/11 memorial when seen from above. An adult pass is $12 but has a discount rate for large groups, and their pumpkins are currently buy one get one free! You can check their Facebook page for any times they open early or when they offer discounts for their pumpkin patch ideas. They also have a bouncy area, a tractor ride, and horseback rides!
Non-Patch Pumpkins
If you aren't wanting to take the trek through a field through your personal pumpkin, there are plenty of grocers in the location who brought them to town. Although this won't really be with pumpkin patch ideas, you can still get your fall on with their supply!
Costco is currently selling pumpkins for $6.99 as a flat rate, which is great if you're aiming for a bunch of larger pumpkins. If you're wanting more bang for your buck, especially if you favor smaller, more carriable pumpkins, you'll want to check out one of the stores that sells pumpkins by weight.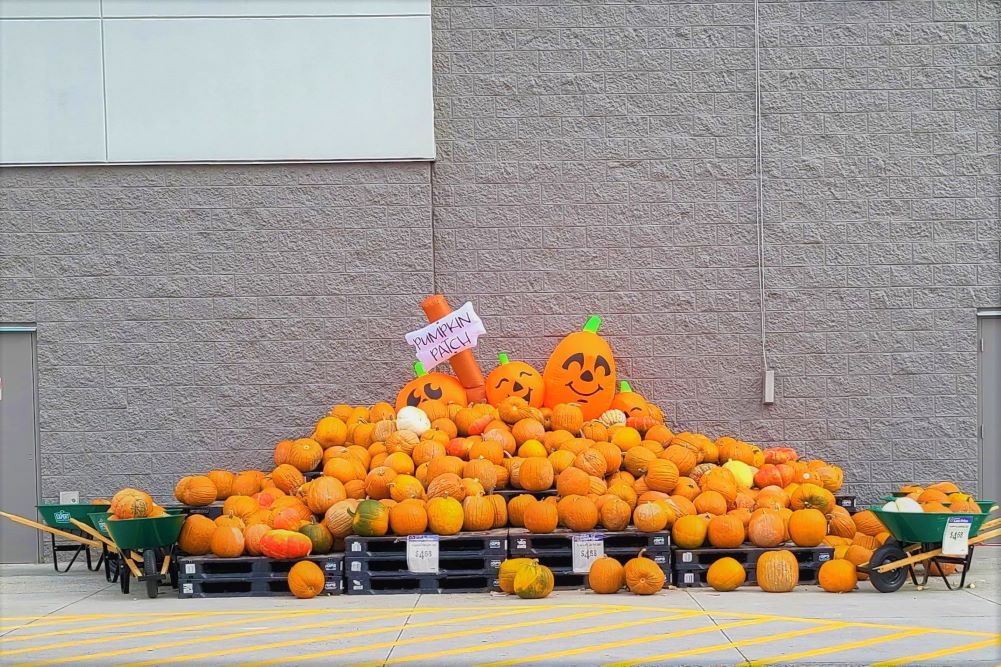 Winco is currently selling pumpkins for 18 cents a pound, so about $2 to $4 for a medium pumpkin. Safeway, or if you can't get to Idaho Falls, Albertsons, are both selling pumpkins for 23 cents per pound, so about $4.50 to $7 for a medium one at either location, and Walmart is just one cent more at 24 cents per pound.
Walmart is also selling white pumpkins for about $4 each, or Broulim's has them for 59 cents per pound. Gourds are about $1 to $3 all around, from Walmart to Albertsons to Broulim's, and you can find a variety of kinds in each range.
What to Do with your Punkins
Carving
Pumpkin carving is always the most obvious answer for fall pumpkin activities. The best tips for pumpkin carving are to wash before carving, hollow it by (if you can get your hands on the tools) using a drill and a heavy duty cake beater, a sturdy ice cream scoop, or a rice paddle, and use pins to poke out your pattern or plan before you start carving. You can download a free pattern or watch a YouTube tutorial to get your carve on. You can use a just serrated knife and pins or go all out with a set of carving tools.
Decorations and Photos
Both before and after carving, pumpkins are also great for some basic white girl fall photos. You can pose together with your roommates or at family home evening to show them off, or you can show how they decorate your front door! A lot of locations have decoration contests, so check out with your complex if you can get a prize for your pumpkin pictures.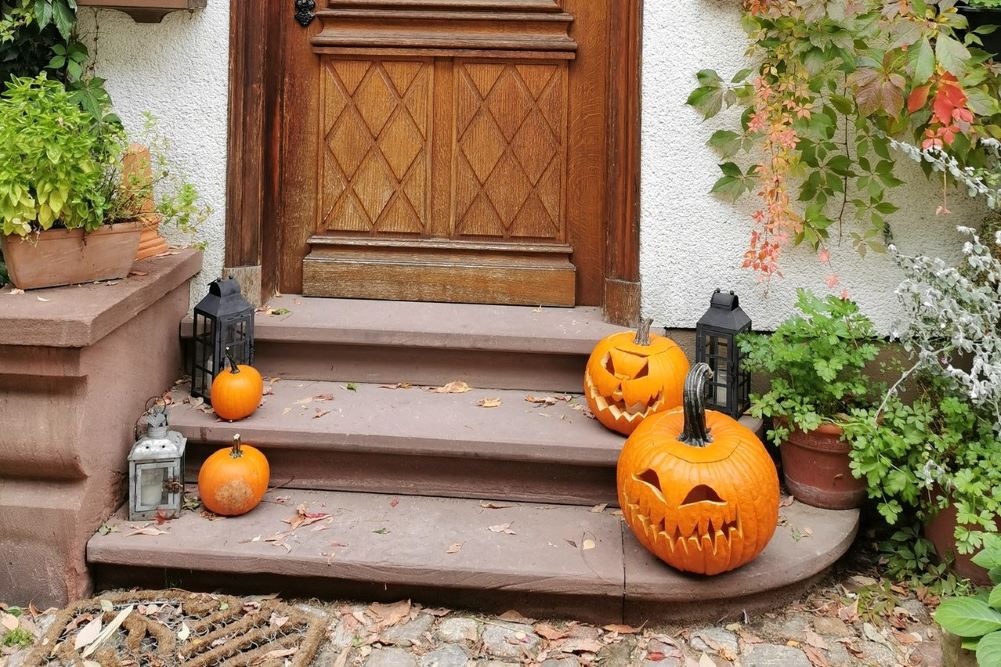 Food
Another way to use the pumpkins is to keep and bake the seeds. If you're looking for a less involved way to make homemade pumpkin seeds, you can use other winter squash (butternut squash, for example), and just cut it in half to see and scoop out the seeds. For authentic pumpkin seeds, simply set the pumpkin insides to the side and separate the seeds from the pulp and fiber. You can do this by putting them in a bowl of water to make it easier, but it will be a bit more goopy!
Once you've separated the seeds, wash them in a colander. If you don't have one, you can just use a regular bowl and strain them out with a slotted spoon or scoop them out and dry them in a cloth or paper towel. You can find tons of recipes for them from savory to sweet, but we would recommend putting them in a greased pan, covering them with cinnamon and sugar, and baking for 15 minutes at 350 degrees!
You can also eat any variety of pumpkin or squash, but if it's bitter, you shouldn't eat it. Extreme bitterness means it's no longer safe to eat! Whether you make pies, soups, or breads, you can really use it, guts and all. In some varieties, you can't eat the skin, and you shouldn't ever eat the stem. You also shouldn't eat painted pumpkins, and don't eat pumpkins that you've cut open and left out for more than 4 hours!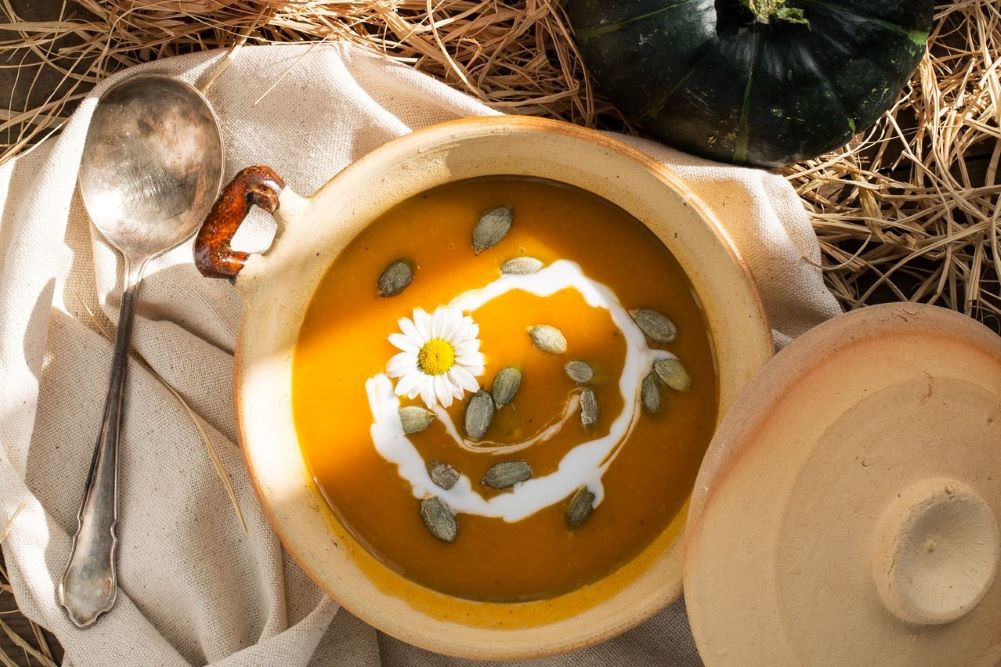 Paint
If you don't want to deal with the mess of pumpkin insides, you can always paint your pumpkins. You can use a white pumpkin for this, but regular acrylic paint still shows on an orange pumpkin! You can do everything from handprints to full masterpieces and still just have brushes to clean up after pumpkin decorating. Painted pumpkins also last longer, but be sure to dispose of them within a month! Whatever you do, don't smash them on the sidewalk - they'll freeze there until April!
Head on Out!
Go ahead and get your jack o' lantern on with these pumpkin patch ideas. Whether you just go for the pumpkins or you take the time to play some games or do a straw maze, you can have a great time this fall with all that's going on!