Idaho is known largely for its amazing hot springs and the surrounding geothermal areas. For example, the state capital building is the only U.S. building officially heated by geothermal energy from deep hot springs! The state itself has well over one hundred active fault lines that covered lots of land in old lava deposits and large mountains. This also means that earth's heat is closer to the surface, and natural pools of water become heated to a temperature perfect for a relaxing soak or a fun swim. To help you find a great place, here's a list of some of the best hot springs near Rexburg!
1. Heise
Heise Hot Springs location is also just a half hour from Rexburg to the southeast. The facility is outdoors and open to the elements, and the hot pool is open year-round. The hot tub is of course naturally heated by geothermal heat in the area and is perfect for relaxation.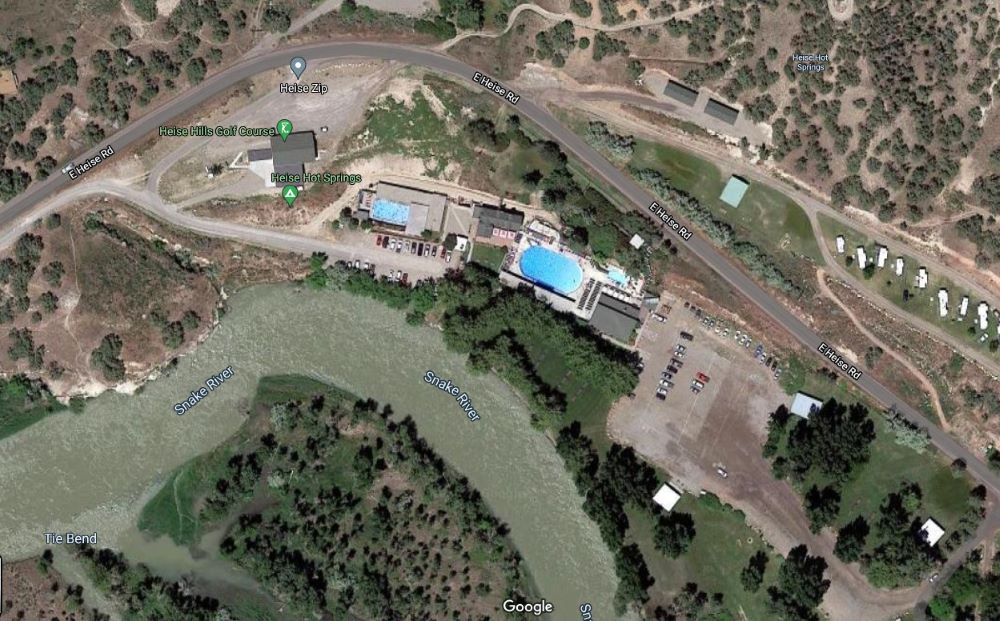 The facility also has a pool for other water activities, and it even has a couple waterslides! The location offers swim lessons and other water sports as well as some outdoor on-land activities. The swimming pool is open Memorial Weekend through Labor Day, and depending on weather or renovations, the outdoor swimming pool may be closed. Be sure to check the website for more information on availability, lessons, and other outdoor activities!
2. Goldbug
If you're wanting to go to a more natural landscape, Goldbug Hot Springs is the place for you. Although it was previously a little-known oasis, the owners of the property are allowing individuals to soak in the undeveloped natural hot spring.
The spring is located just about three hours from Rexburg to the northwest, and you'll have a 1.7 mile hike up to the pools. This hike is partially through private property and gets pretty steep at the beginning and at the very end of the trail.
The area doesn't have any set stairs, seats, or walking areas - it's all natural. Speaking of all natural, skinny dipping is allowed at Goldbug, so if you have young children or concerns regarding others being naked, you should check out some of the other places on our list!
There are multiple different pools in Goldbug hot springs, so if there is a group of people using one area, or nude individuals in a pool, you can find another pool to use in Goldbug. Be sure you leave with enough time and energy to make it back down the 1.7 mile hike and the drive home!
3. Boiling River Hot Spring
Although many places are unsafe in Yellowstone National Park, there is a location where the Boiling River mixes with the Gardner River and creates water safe enough to soak in. The seasons for soaking in Boiling River Hot Springs are in summer, from June through September 15, and in winter from September 16th through approximately April 16.
In the fall, winter, and early spring, the boiling water is mixing with snowmelt and mountain runoff, so it will be colder and may be surrounded by snowy or icy land. In the summer things will warm up and you'll likely see more people soaking. You cannot come to this location from mid April through May as the runoff becomes dangerous and floods the area. When considering a trip in late March or early April, be sure to plan around potential early floods.
The location is all natural except a vault toilet and a small parking lot. Parking is not allowed on the grassy areas, so it is pretty limited. Swimming suits are required for this location, and swimmers and soakers are not allowed to bring food, drink, or alcohol, or any types of containers or soaps/ conditioners (so, no bathing) even if they are labeled biodegradable. Check before you go to make sure that the location is open for swimming. There's no fee, so be sure to stop by for a swim when you're in Yellowstone!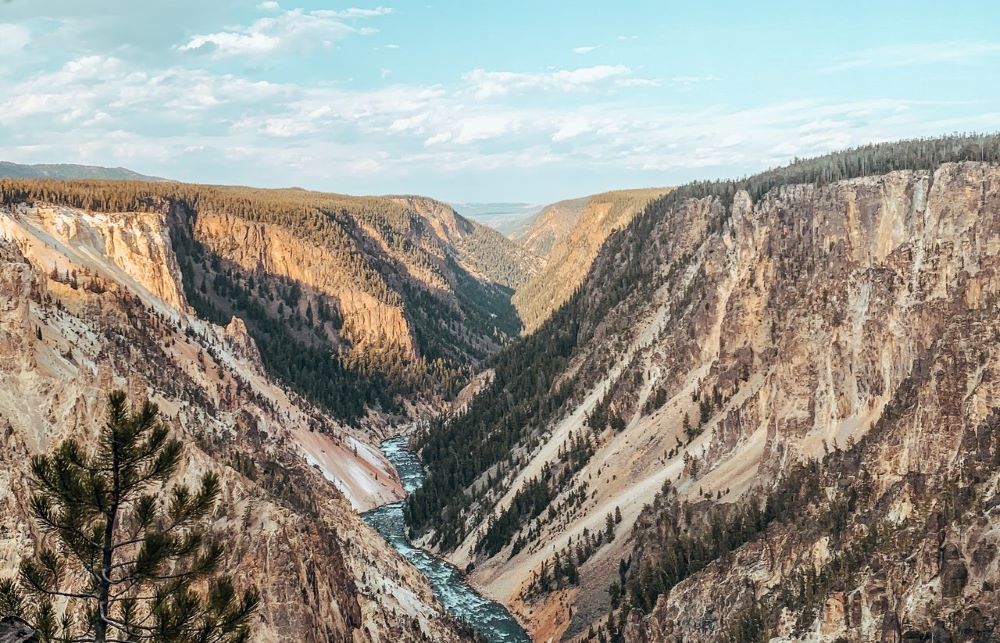 4. Firehole River
Firehole is a swimming area in the canyon area. There are two vault toilets nearby, and no other modern accommodations, including no parking lot. The rules listed are the same as those for Boiling River Hot Spring, with the additions that you cannot climb or dive from the cliffs or trees in the area, and no pool toys or floats can be used in the river.
This water also mixes with the natural heat from underground, so it is warm year-round. The temperature still changes according to the weather and the season, though.
Understand before you go that these are natural rivers, so they have fish, plant life, and insects in, on, and around the water. The bottom of the rivers and hot springs are rocky and natural, so make safe decisions about swimming and soaking. Once again, check before you go to make sure that the location is open for swimming!
Yellowstone
The rest of Yellowstone is UNSAFE to soak or swim! In the rest of Yellowstone, do not get off the paths or try to swim in the pools, lakes, and rivers. The ground itself can be hot and crumbly, and individuals have died just falling through the ground into hot water underneath. The natural chemicals in Yellowstone pools make pretty colors and can dissolve you!
The heat is also enough to cause extreme burns: skin burns start at 118 degrees Fahrenheit, and flesh is destroyed in water hotter than 160 degrees Fahrenheit. Regular hot pools only go up to at most 110 degrees Fahrenheit, but the waters at Yellowstone are pretty much 180 degrees or higher, up to the highest recorded water temperature ever recorded at over 400 degrees Fahrenheit (boiling but not evaporating because of the pressure that causes geysers)! Be sure to only stick to safe, regulated, tested areas.
5. Lava Hot Springs
Lava Hot Springs has a variety of naturally heated hot pools, as well as a regular outdoor pool with three diving levels, a waterslide, and shallow play side, and an indoor kiddie area with water equipment.
While the swimming pools are open during the summer and some select days in winter, the heated pools are open year-round. One swimming pool, the slides and diving boards, and all the hot pools are outdoors. Some cover is located in the hot pools to keep off any snow or rain during your soak.
The different pools have different regulated temperatures ranging from 102 to 110 degrees Fahrenheit. The pools also have areas to sit deep in the water to warm your whole body. Be careful bringing young kids to those areas as it can be pretty deep and may be too hot for them.
Lava Hot Springs is located an hour and 45 minutes south of Rexburg. The city itself is called Lava Hot Springs, Idaho. The pool and the hot springs are located in different areas of the city.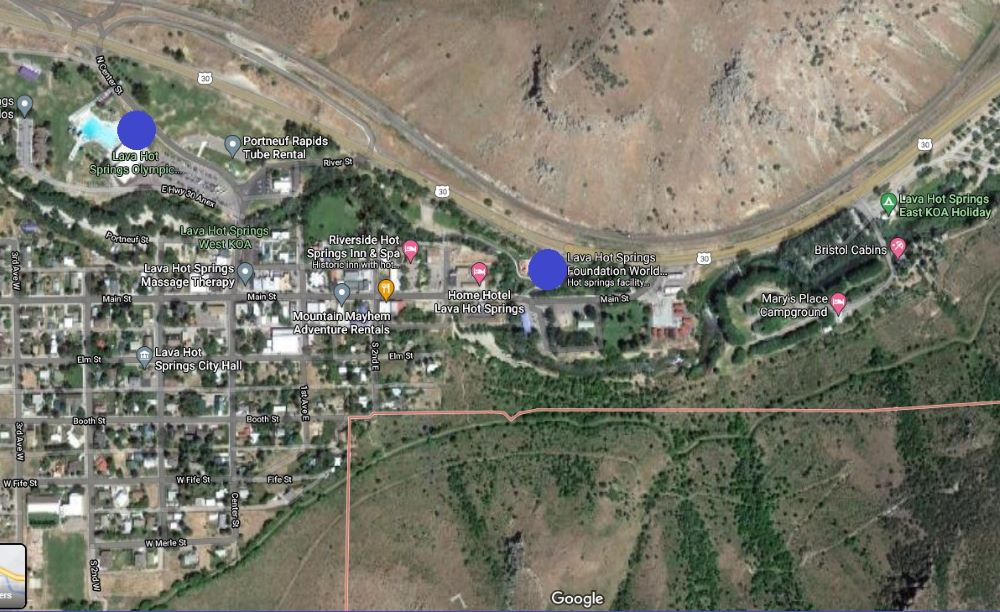 The regular swimming complex is listed as Lava Hot Springs Olympic Swimming Complex, while the hot pools are just listed as Lava Hot Springs, so be sure to double check that you're heading to the right pools.
6. Green Canyon
Another naturally heated swimming and soaking area is Green Canyon Hot Springs. Heated by the Pincock hot spring to the east of the facility, Green Canyon has a swimming pool, a hot pool, and uniquely, a tiny cold pool. The heated pool is perfect for relaxing in, and the swimming pool has a shallow end and a deep end including diving boards. The cold corner is only 55 degrees if you need to cool off rapidly on a hot day or after a long soak. There's no requirement to use it, of course, and the swimming pool is enough to be a satisfying cool down from the hot pool.
All pools are indoors, although the hot pool has a removable roof left open during nice weather. It is located in Newdale, Idaho, just a half hour east of Rexburg.
Go Soak!
If you find natural hot springs, know that new locations can be very dangerous, which is why it's good to stick to known and trusted hot springs. If you feel you have to find a new pool, test the bottom pool temperature of any unknown area! With six major hot springs facilities near Rexburg, though, there is a safe, naturally heated area nearby that is perfect for you!
You can check out the rest of our blog for information about many other activities within Rexburg.