Fun Fact: Southeastern Idaho is technically a desert because of how little precipitation it receives (despite what it seems like when it snows). In most places, you can't really tell, but just west of Saint Anthony, you can see a piece of Idaho that truly is desert. Known simply as the Saint Anthony Sand Dunes, naturally formed sand deposits stretch for 35 miles east to west.
What Caused the St Anthony Sand Dunes?
Natural sand dunes in this area stretch from north of Twin Groves all the way past Edmonds, covering more than 11,000 acres of land. It was caused by ancient lakes drying up. The Juniper Buttes then caught the sand that was blown away from the lake beds. Over time, plants grew into the sandy Butte area and settled the sand into dark, long dunes. Newer eroded white quartz sand sits on top of these thick dunes, so the sand is piled hundreds of feet high - four hundred feet high, in fact.
What Can You Do in the Dunes?
In the winter, part of the St Anthony Sand Dunes and the surrounding area is a wildlife reserve, and through the summer, it's the perfect recreational spot.
Hiking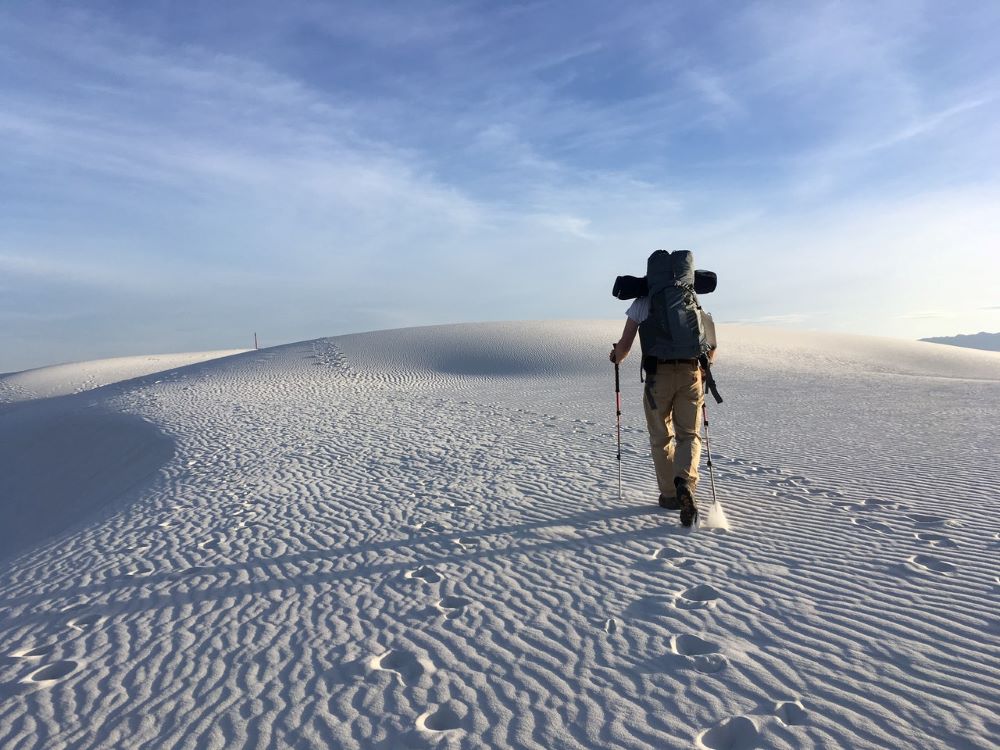 Horseback Riding
You can bring your horse with you into the dunes and go for a ride. Be sure to stick to designated routes when you're not on the open sand, and be sure to have all that your horse will need on the long stretch. There is a horse tye up area at Egin lakes campground on the far east side!
ATV Riding
What the St Anthony dunes are most known for is the number of ATV hotspots throughout the area. The surrounding campgrounds and stores advertise for St Anthony sand dunes rentals to equip you with an off-road vehicle and the gear to have a good time.
Devil's Dune
Choke Cherry Dune
Dead Horse Bowl
Middle Bowl
Crapos Hill/ Thunder Mountain
The Bureau of Land Management put together a small map of the existing roads and trails that you can refer to as well.
Shooting
Many individuals take clay pigeons out to the dunes and practice their aim. It's a perfect area for this kind of activity; it's clear of most wildlife and people, so the sound and debris can't hurt anything (except you and what you bring, be careful!). Idaho state policy is that you bring out what you take in, so make sure you don't shatter too much and you're able to keep the area shard and shell-free when you leave.
Take care while you're shooting to watch out for wildlife, hikers, and drivers who may not see you in the sand. Especially for drivers, despite the 96 decibel limit, hearing you shooting won't be something they can use to see you. If you're shooting toward a distant area, have a clear view of what surrounds it so you can see if anyone's coming. Wear brighter clothing so that drivers and hikers can see and avoid hitting you!
Camping
There are a lot of campgrounds in the area. You aren't allowed to camp directly out in the dunes for preservation's sake and for your own sake, but there is a lot with RV access, a dune with fire pits to camp on, and several surrounding campgrounds to bed down at.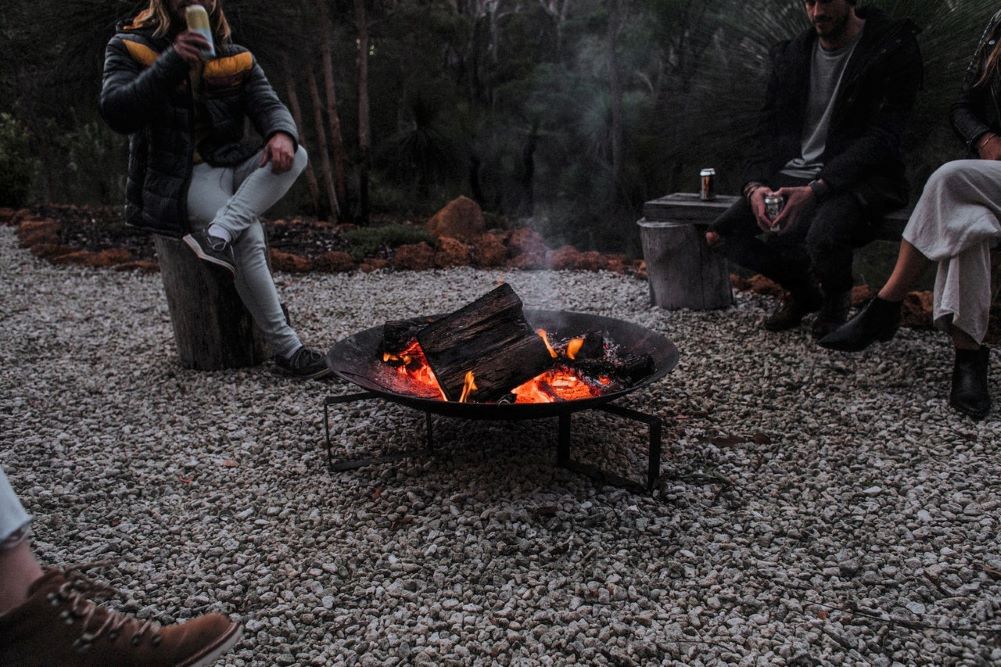 Egin Lake
About halfway across the bottom of the sand dunes, there is a small lake up against the sand. This location has a campsite right next to it, also with a small shop and RV access. The lake is 5 feet at its deepest point and averages about 3 feet deep. It is non-motorized, but you can bring kayaks and paddleboards to enjoy watercraft. A very green lake, it is home to everything from trees and algae to frogs, so be on the lookout for wildlife! The sand dunes nearby make the perfect beach setting for sand castles and wading.
Stargazing
Due to the tiny amount of light pollution, the St Anthony Dunes are a popular place for watching the sky. On a clear night in late July, you might even be able to catch the Persieds!
Near the Dunes
RV Parks
Idaho Dunes RV is an RV park and campground a half mile from the start of the dunes. It has 54 total campsites, 24 of which are specifically for RVs. The location has hook-up sites by reservation only as well as power and water availabilities. It also has a general store on-site for small purchases where individuals check in for their campground rental. Price varies depending on what you bring to stay the night in, whether a RV with a trailer or a car and tent.
Sand Hills Resort is the larger park of the area. It is located in the center of the long strip of sand, directly on Red Road. This RV park and campground are properly in the sand, nestled up with two sides giving direct access to the dunes. the campground has 77 partial hook-up spots, 13 full hookup spots, and five tent lots.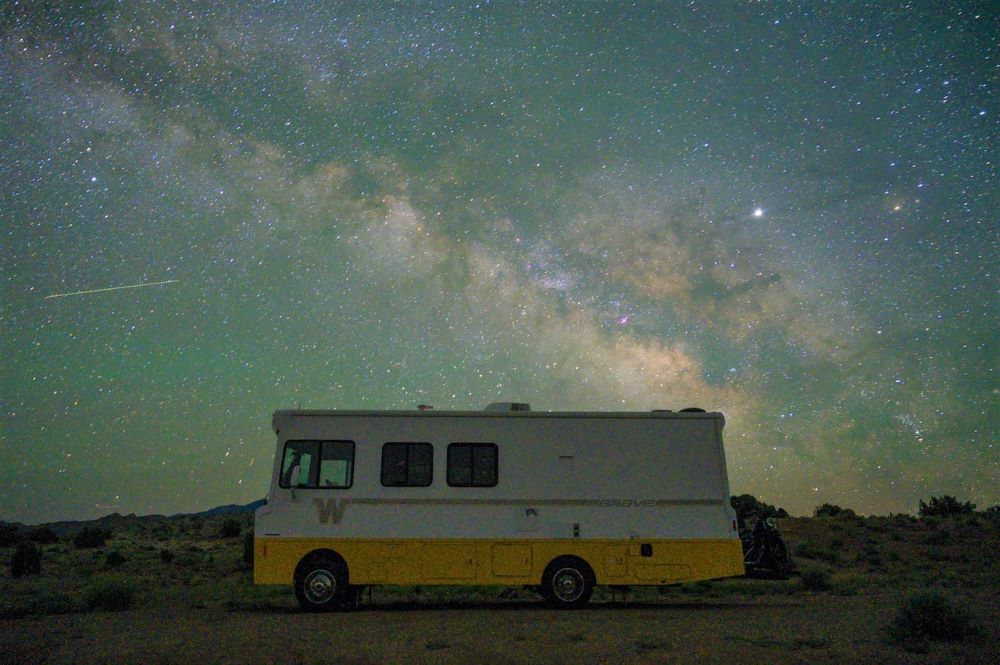 The location is covered with trees for shade and to keep the sand in the dunes rather than the lot. It has a small playground, general store, picnic tables, two bathroom areas with 6 showers total, dump station, washer and dryer facilities, and is home to the Patriot Motorsport Adventures and Adventure Dune Rentals to rent ATVs on-site.
Sand Dunes Campgrounds
In the dunes themselves, there are a few camping spots. Because you can't just camp anywhere in the sand dunes, some areas have been set apart for this. The locations have fire pits but no other necessities and are just along the top of the first dune across from the sand dunes parking lot.
Do the Dunes Have Restrictions?
There are a few things that aren't permitted in the St Anthony Sand Dunes. For the winter, it is a protected wildlife reserve, and some precautions need to be taken due to that. Other precautions are just good practice in general, and we'll put them here too.
Wildlife Reserve Schedule
From January first through the morning of April first, every year, the St Anthony Sand Dunes north and west of Egin Lakes are closed to human access. The area to the south of Egin Lakes is also closed for recreation during this time.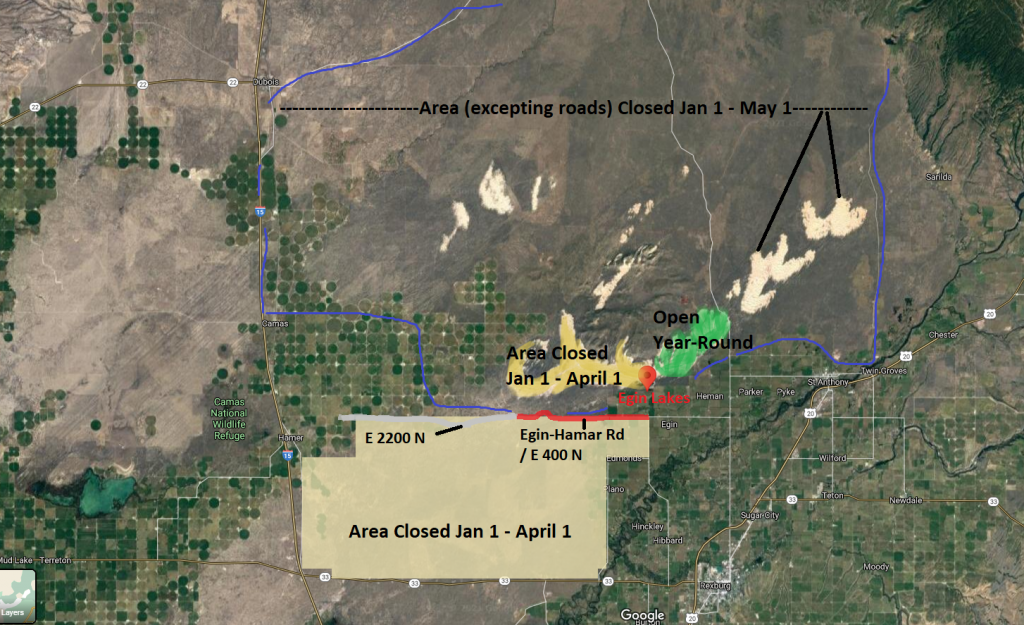 The dunes to the east of Egin Lakes up to the Sand Hills Resort are open year-round. The other, less popular dune areas, as well as the Civil Defense Caves and the northern hiking areas are closed from January first through May first. This information is regulated by the Bureau of Land Management which handles most of this area.
This means that you can't enter the area for any reason, not photography, not hiking, not snowmobiling. During the winter, the area is home to thousands of elk and deer, and it's the largest desert wintering area for moose in all of North America.
Avoid Vegetation
Essentially, don't walk or ride on the bushes and plants that manage to grow in the sand. This is what makes the area important for the wildlife that are preserved as it will be there to feed them through the winter and spring.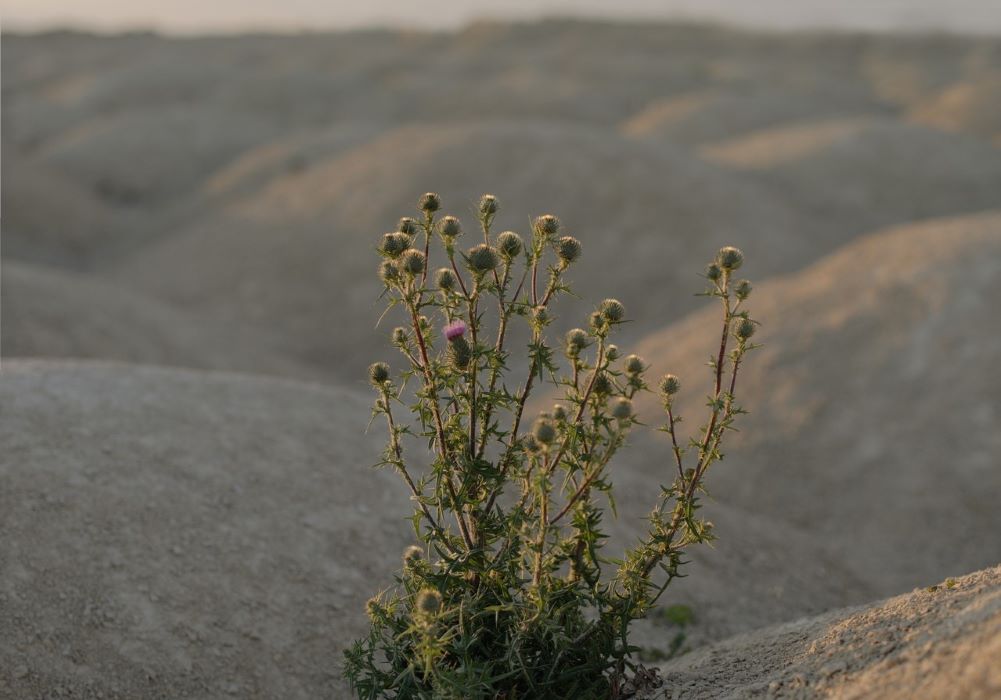 Along with this, don't disturb any wildlife that are taking shelter in the vegetation. The Saint Anthony Sand Dunes are also home to a variety of sage grouse and other animals, including two sensitive beetle species, that are important to the area; let them and the habitat be.
Proper ATV Safety
All individuals doing off-roading need to follow regulations of the area to essentially protect the wildlife reserve. The off-road area that can be used are specific trails marked with "designated route" signs as well as any of the open sand. Again, the vegetated areas are what is important for the wildlife in the area, so they need to be avoided.
When driving, be sure to take precautions to learn the area, watch for those doing other activities, and yield to other drivers coming from uphill. Look before you descend even though the other person should yield, and be sure to have a spotter and a good knowledge of the area before you go off of any jumps.
For visibility, all of the vehicles need to have a "whip mast" that stands eight feet above the ground. This pole will have a bright flag on top and should be able to withstand whatever you'll be putting the vehicle through!
The vehicle will also need all valid driving permits, such as the registration sticker and Utility Type Vehicle stickers.
The equipment you'll be wearing is up to you, but know that the sands and sun can be very hazardous to your eyes and skin. Boots, chest protection, goggles, and gloves are all recommended. Anyone under 18 has to wear a helmet, of course, and we recommend it to everyone in general to for extra sand protection and extra impact protection.
Fire Safety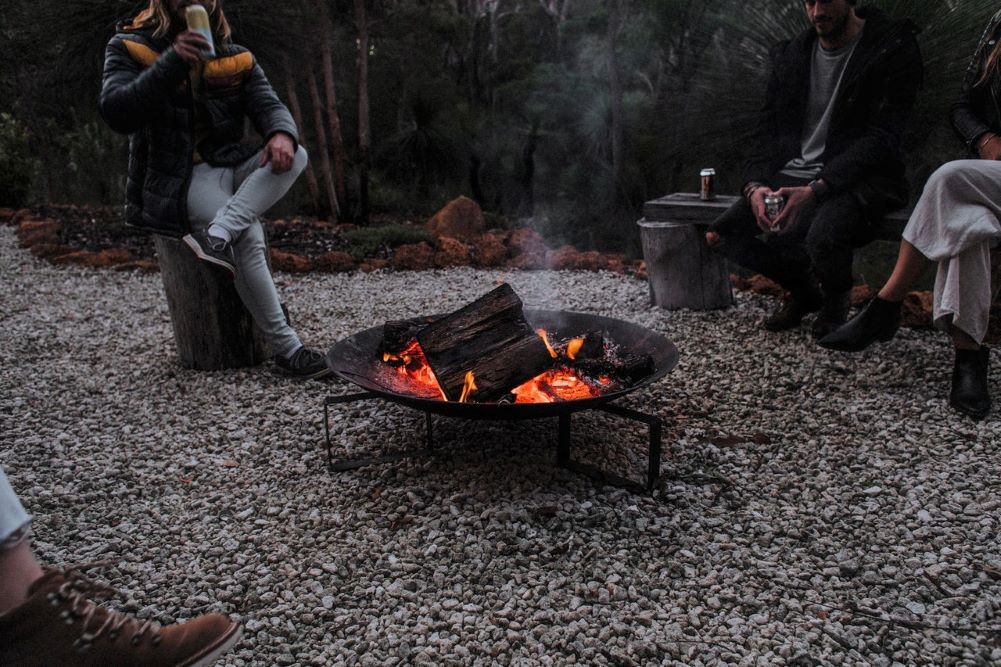 The state of Idaho experiences a lot of fires and has times where they restrict any kind of outdoor fire. When a burn ban happens, you can check to see if Saint Anthony has restrictions. You can't at any time have a fire outside of a designated fire pit area.
In the sand dunes, fireworks unfortunately aren't permitted. You of course always have to have someone tending to the campfire if you have one. Gun safety and vehicle safety, especially in the summer around very dry grasses, are important to know before you go.
Check Out the Dunes!
All in all, the St Anthony Sand Dunes are an amazing place with a surprising number of activities to choose from. Whether you're watching the sky at night or splashing around in the nearby lake, these huge sands are truly a site to see and a place to be. Make sure to check them out when you're in the area and experience the desert and the wilds of Eastern Idaho.